The All-New 2018 Mercedes-AMG® GT and GT C Roadsters:
The Mercedes-AMG® GT S and GT R introduced the thrill of racing to the all-American road. Now, Mercedes-AMG® introduces the thrill of the elements: The AMG® GT and AMG® GT C Roadsters bring all the excitement of driving a racer to the joy of driving a convertible.
The new Roadsters inject fresh air into the tradition of exquisite power, with a Handcrafted AMG® 4.0L V8 Biturbo with dry-sump lubrication. The AMG® GT C takes this to another level entirely, borrowing from the AMG® GT R's technical refinements to deliver 550 hp and peak torque of 502 lb-ft.* In combination with the GT R's rear-axle steering system, it guarantees dynamic performance at the very highest level.
All that power announces itself in a distinctively athletic appearance these roadsters move, even when they're not in motion. Those dramatic exterior lines are echoed inside, with a wide dashboard, high beltlines, concave door panels, and a dynamically rising center console. With a new, light-colored interior in Macchiato Beige Exclusive Nappa leather with a diamond waterfall stitch pattern, available for the first time, the sense of exclusivity is felt immediately.
When the sunshine beckons, the fabric roof opens (and closes) in approximately 11 seconds, at speeds of up to 31 mph. It's supported by a lightweight magnesium/steel/aluminum structure to keep the center of gravity responsively low.
Where some dream of cars that push the limits of power, Mercedes-AMG® has made the dream of performance an open reality.
The all-new 2018 Mercedes-AMG® GT and GT C Roadsters arrive in Fall 2017.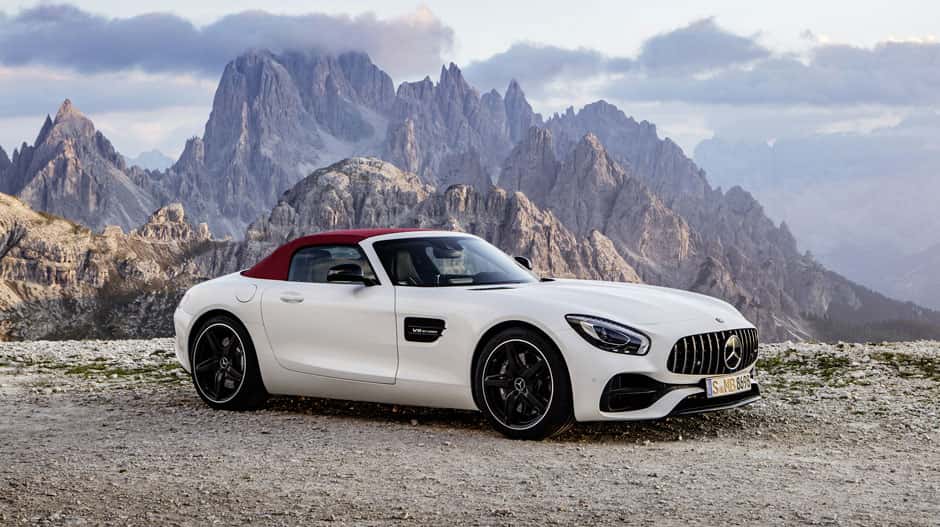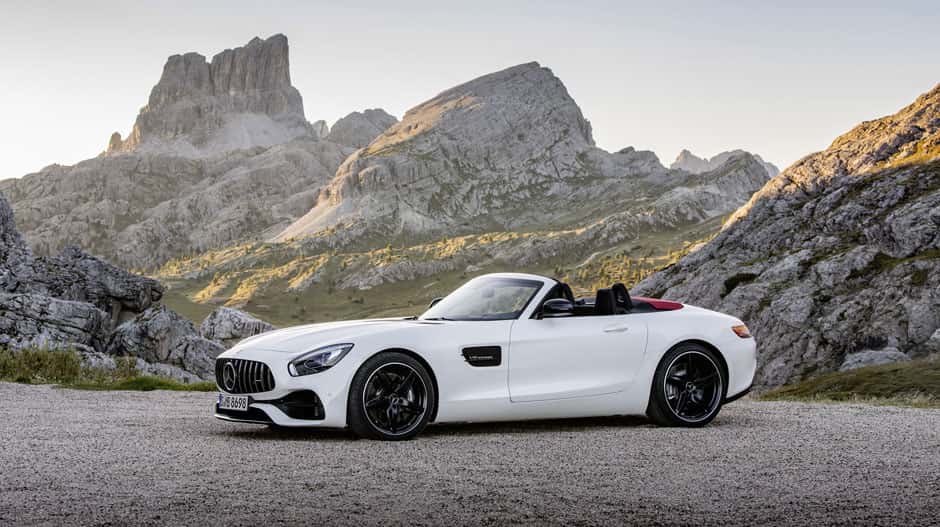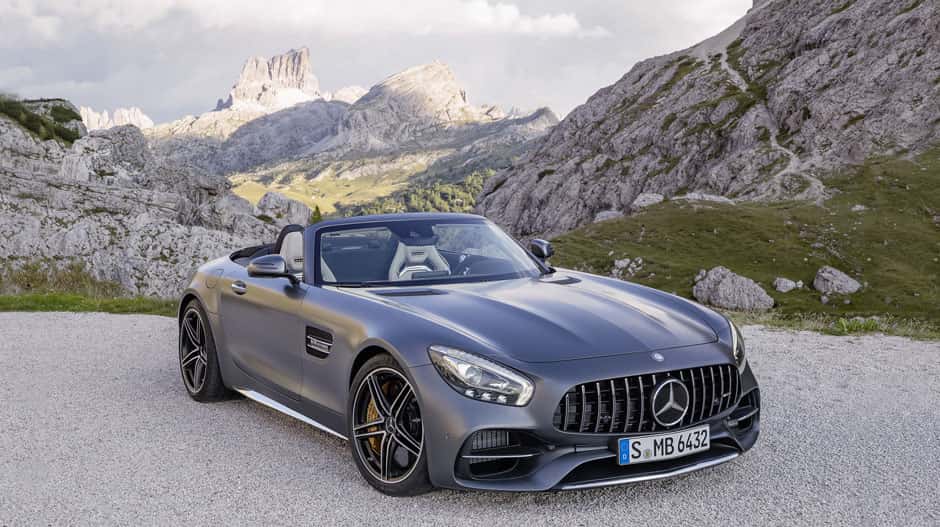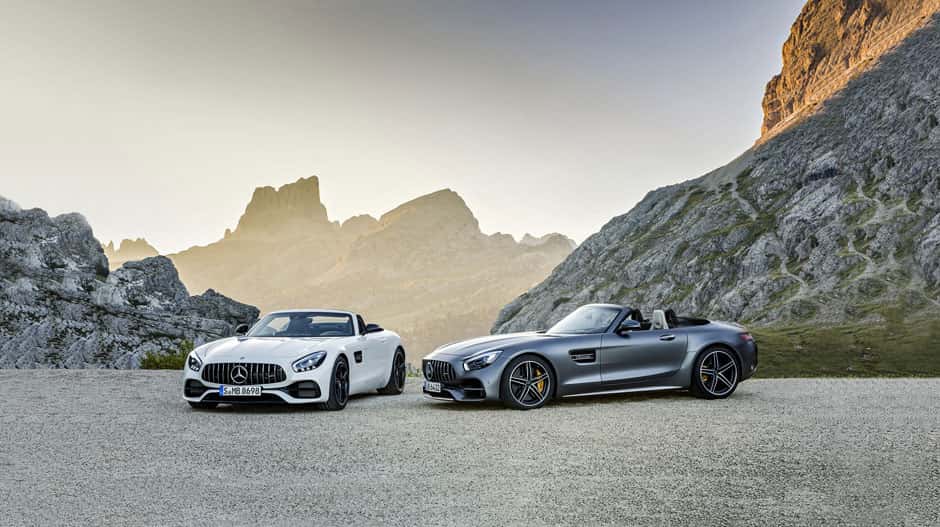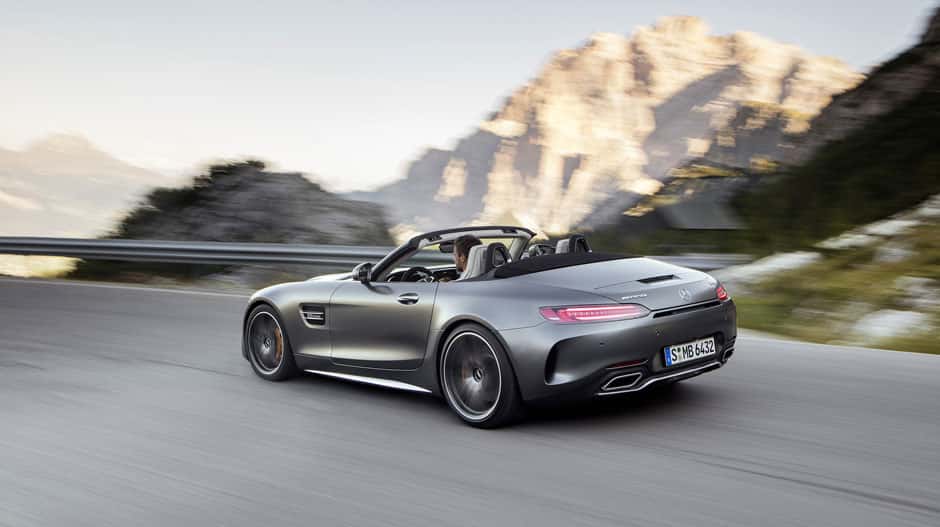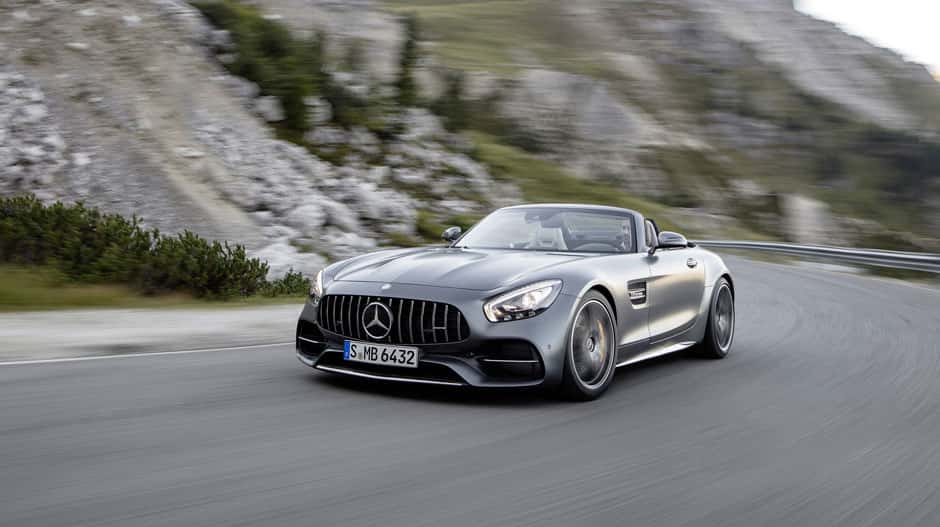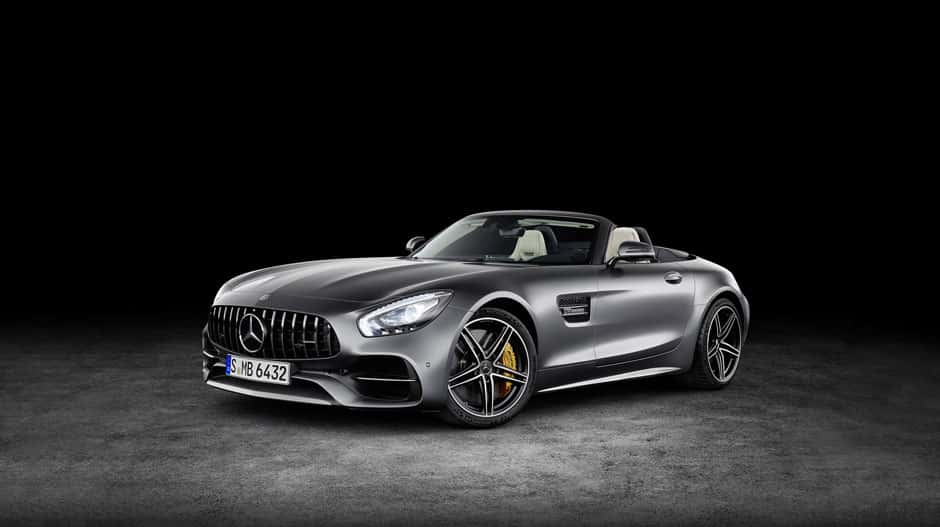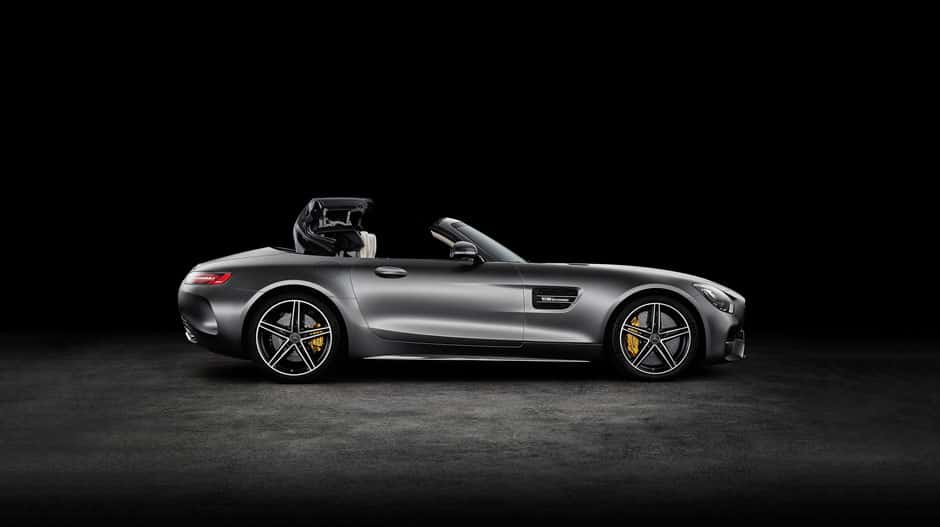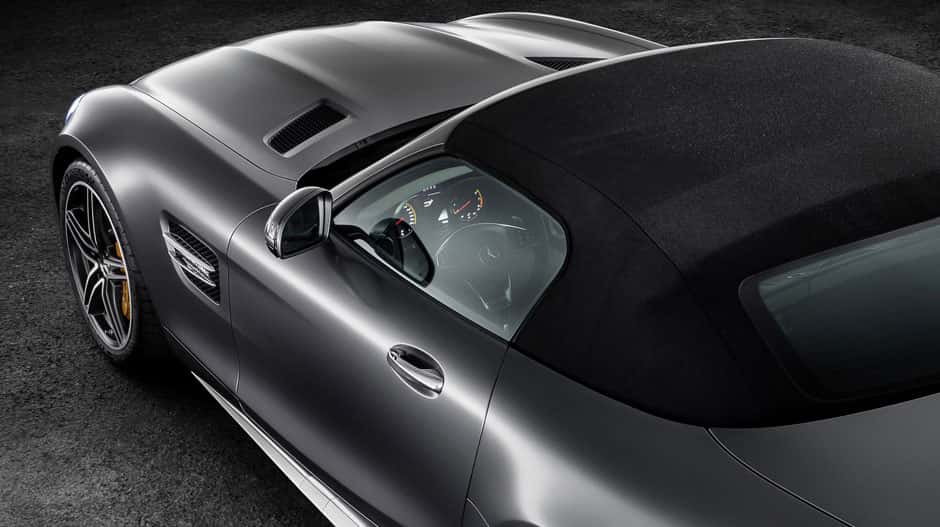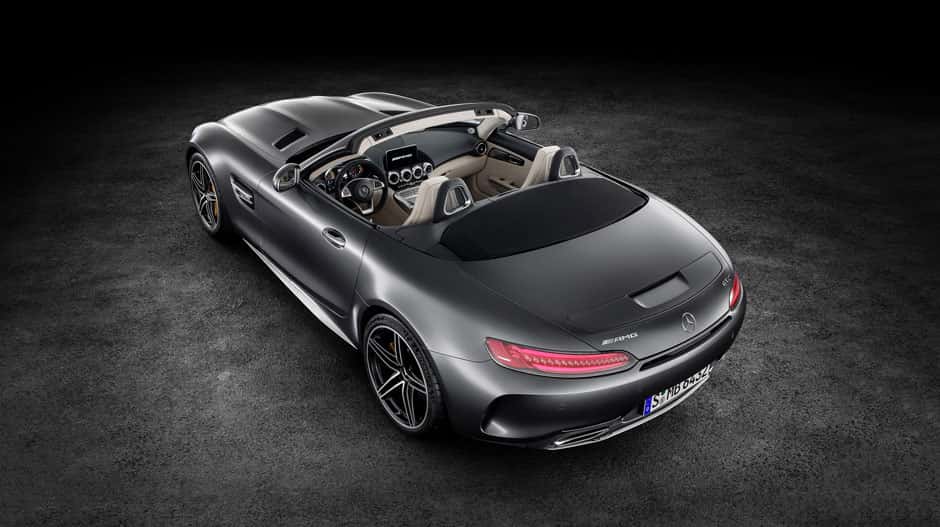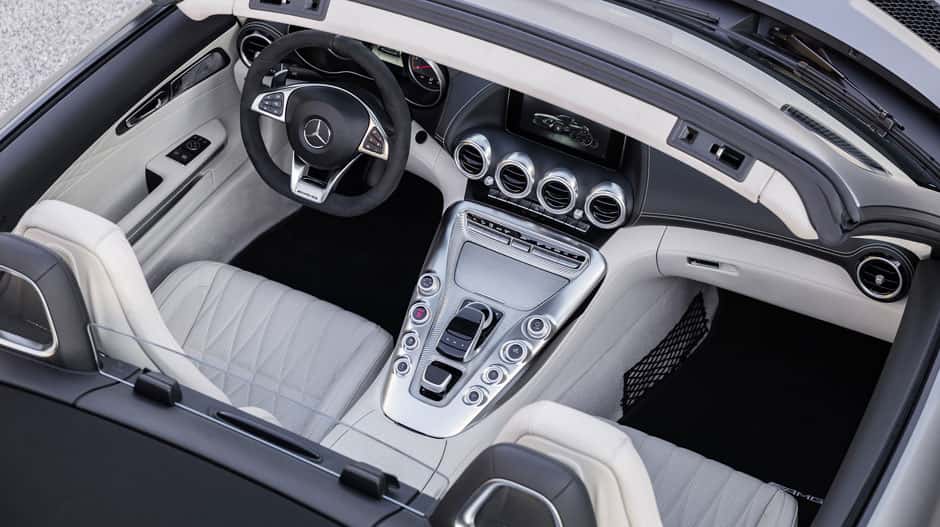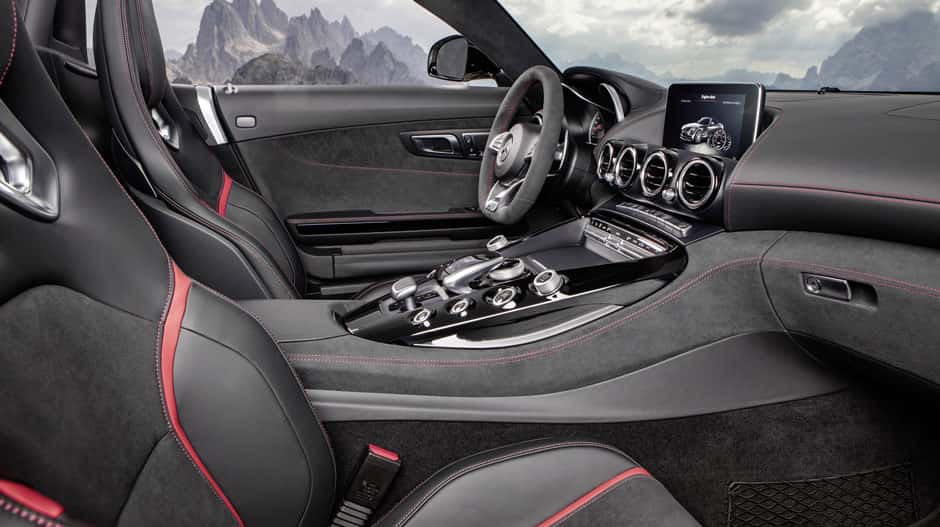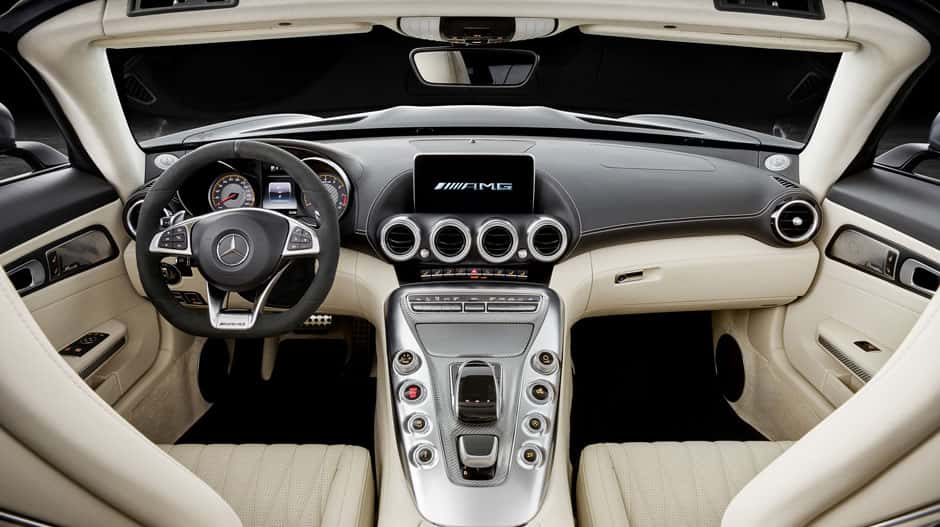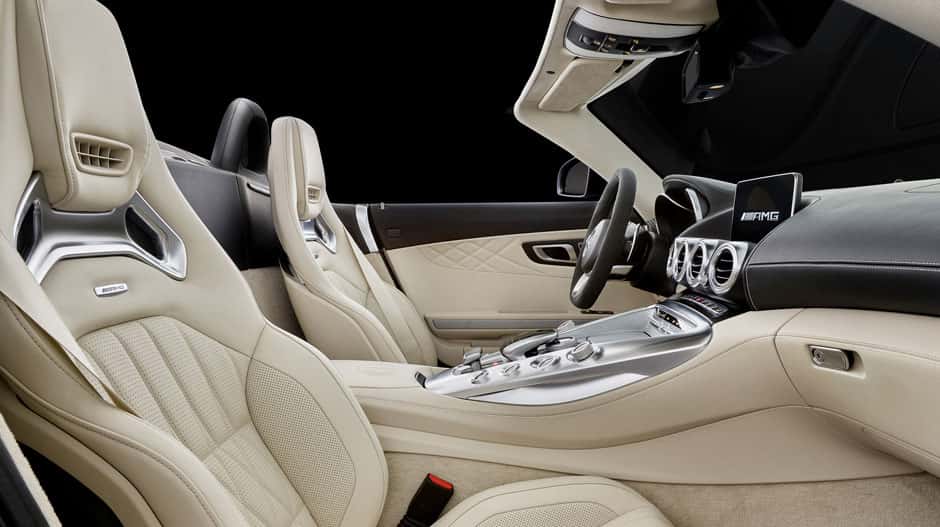 Key Highlights:
• Handcrafted AMG® 4.0L V8 Biturbo with dry-sump lubrication
• 469 hp and 465 lb-ft of torque* (GT Roadster)
• New output level of 550 hp and 502 lb-ft of torque* (GT C Roadster)
• 0-60 mph in 3.9 seconds; top speed of 188 mph (GT Roadster)
• 0-60 mph in 3.7 seconds; top speed of 196 mph (GT C Roadster)
• Rear-wheel drive
• AMG® DYNAMIC SELECT
• Active rear-axle steering (GT C Roadster)
• Additional transmission mode, "RACE" (GT C Roadster)
• 57mm wider rear fenders (GT C Roadster)
• AMG® Performance Exhaust System standard on GT
• Fully automatic, weight-optimized fabric soft top that opens and closes in approximately 11 seconds
• Reinforced bodyshell structure and fixed roll-over protection system
• Active air management system borrowed from the GT R to provide advanced cooling performance
• AMG® Sport Suspension (GT Roadster) or AMG® RIDE CONTROL with adaptive dampers (GT C Roadster, Optional GT Roadster)
• New interior option: Macchiato Beige Exclusive Nappa leather