A New Era of Driving | The New EQS

The New Era of Driving Has Arrived
The EQS is the first all-electric luxury sedan from Mercedes-EQ (Electric Intelligence). With it, Mercedes-EQ is redefining this vehicle segment. The EQS is the first model to be based on the modular architecture for luxury and executive-class electric vehicles. Fusing technology, design, functionality and connectivity, the EQS is designed to delight both drivers and passengers.
The first models being introduced to the line is the EQS 450+ with 329 hp and the EQS 580 4MATIC® with 516 hp. The EQS can be charged with up to 200 kW at fast charging stations with direct current. This will allow owners to add 186 miles of charge in just 15 minutes. At home, the EQS can be conveniently charged with AC using the on-board charger. Not to mention, an estimated driving range of 478 miles.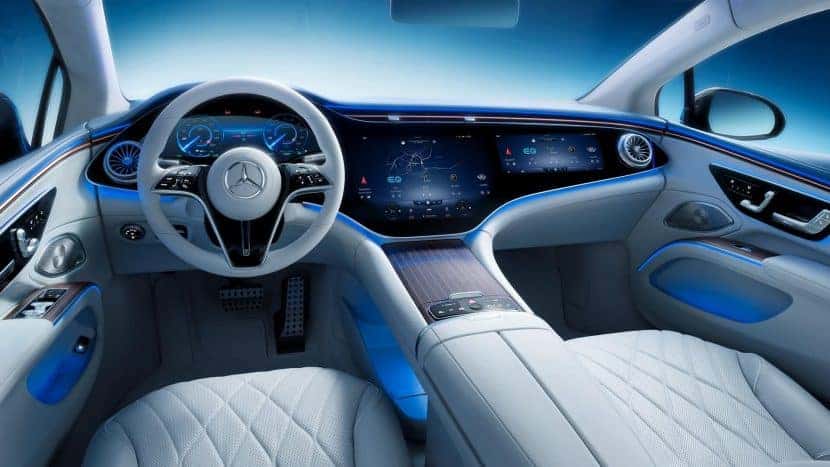 However, the big showcase is inside the EQS. The MBUX Hyperscreen is the absolute highlight in the interior. This large, curved screen unit sweeps across the entire dash. Three screens appear to merge into one as they sit under a single glass cover. The 12.3-inch OLED display for the front passenger gives them their own display and control area. The entertainment functions are only available while the car is being driven. Mercedes-EQ relies on an intelligent, camera-based locking logic: if the camera detects that the driver is looking at the front passenger display, it is automatically dimmed to prevent driver distraction.
Navigation with Electric Intelligence plans the fastest and most convenient route, including charging stops, based on numerous factors and reacts dynamically to traffic jams or a change in driving style, for example. A new feature of the EQS is a visualization in the infotainment system showing whether the available battery capacity is sufficient to return to the starting point without charging. Charging stations along the route that have been favorited are given preference in the route calculation while certain charging stations can be excluded, if selected by the driver. Additionally, the estimated charging costs per charging stop are calculated for the driver.
We expect to see the vehicle in our dealership later this year. As the excitement and anticipation continues to mount we are available to answer questions and take orders today. The 2022 EQS from Mercedes-EQ will forever change the perception of electric driving.